About us
My name is Eva Juřičková and recognition of the FCI internationally protected breeding station Cerberus Moravia reg number 968 / 14.
We are in Eastern Moravia in Staré Město u Uherského Hradiště. Currently I have the American Akita dogs. We live in a house with a garden, which is available. The first female representative of the American Akita, CALL ME HONEY Angel in Fur (Hanna) arrived in February 2013 from solution in Prague. Currently I have 2 children.Dog ATTOMIC ATTACK (Domin) and dog ALL YOU NEED IS LOVE (Bobino). Together with the Chinese dog and cat are chocholatým akity members of my household. Daily, we go together and we share the joy and worry.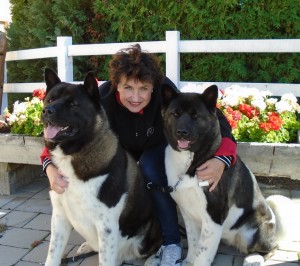 Welcome to the American Akita - kennel Moravia Cerberus
I will answer your questions like
Eva Juřičková.